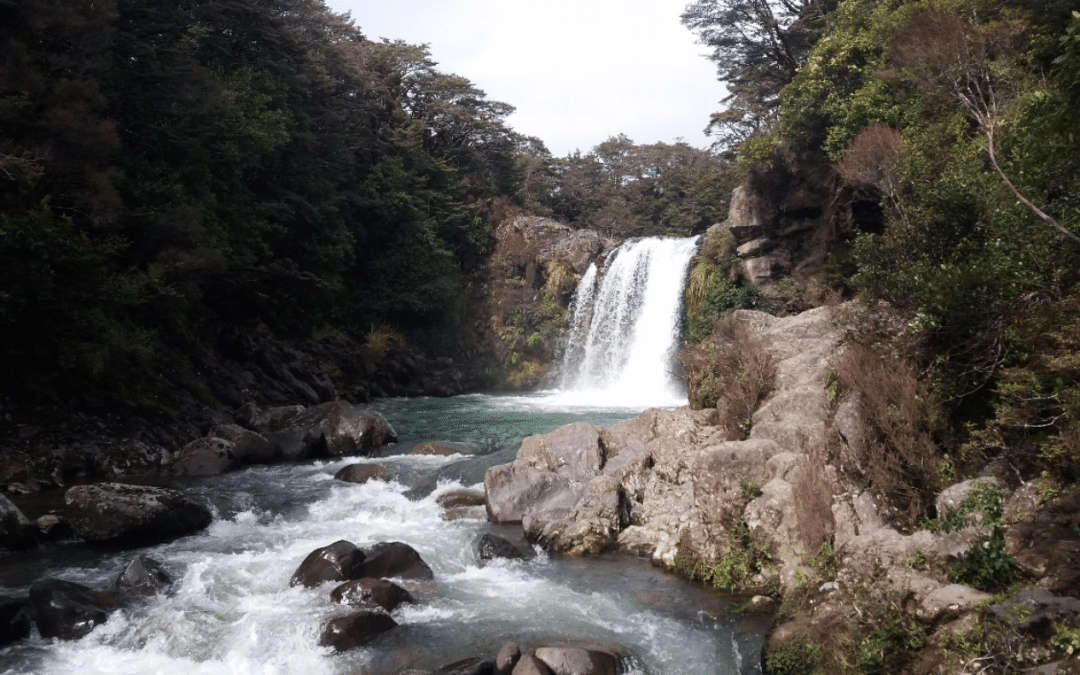 House With No Nails had the pleasure of hosting Tom and Will as they take on New Zealand with an action-packed itinerary.
"Your house is wonderful and you both made our stays there feel like a little slice of home!" – Tom
Day 1 – Arrival
Location: Auckland > Matatmata
Arrived in Auckland
Drove to Matamata
Checked in at House With No Nails!
Visited Wairere Falls and the Seat of Peace
Day 2 – Hobbiton!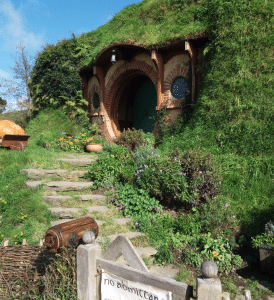 Location: Matamata > Waitomo
Visited Hobbiton and did the daytime tour and lunch combo
Drove to Waitomo and checked in at Hostel
Visited Marokopa Falls and Mangapohue Natural Bridge
Day 3 – Into the abyss
Location: Waitomo > Rotorua
Did Hagga's Honking Holes – a caving experience that involves abseiling down waterfalls into glowworm caves 80m below ground – not for the faint of heart!
Drove to Rotorua and checked in at Hostel
Day 4 – Choppy waters
Location: Rotorua
Did the Skyline Luge
Visited the geothermal pools
Went whitewater rafting down the highest commercially raftable waterfall in the world!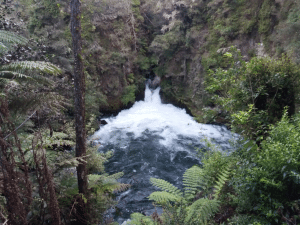 Day 5 – Leap of faith
Location: Rotorua > Taupo
Drove to Taupo and did the Taupo Bungy – a 47m water touch bungy over the Waikato river
Drove back up to Rotorua to go mountain biking at Whakarewarewa Redwood Forest and hired a bike from Planet Bike
Drove down to Taupo and checked in at the hostel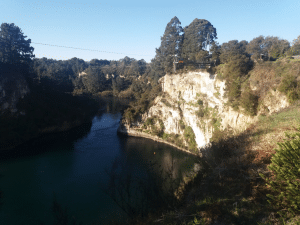 Day 6 – Geothermal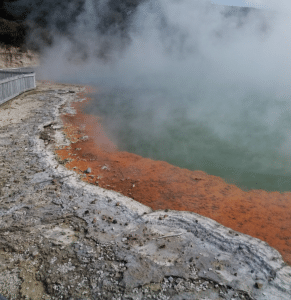 Location: Taupo
Drove to Kerosene Creek and swam in the geothermal river
Visited Wai-o-Tapu Thermal Wonderland
Visited Huka Falls
Day 7 – Sky's the limit
Location: Taupo – Ohakune
Did a 15000ft tandem skydive over the beautiful Lake Taupo!
Drove to Ohakune and checked into hostel
Hired snowboard gear ready for the morning…
Day 8 – Hit the slopes
Location: Ohakune
Drove to Whakapapa ski field and spent the whole day snowboarding
Day 9 – Hit the slopes part 2
Location: Ohakune
Drove to Turoa ski field and spent the whole day snowboarding
Day 10 – See the sights
Location: Ohakune
Visited Tawhai Falls a.k.a. Gollum's Pool from Lord of the Rings
Drove to the start of the Tongariro Crossing to get a good view of Mount Ngauruhoe a.k.a. Mount Doom (also from Lord of the Rings)
Visited the Makatoe Viaduct
Visited the "Last Spike" near the viaduct which was where the main trunk railway lines joined up and were completed
Day 11 – Weta
Location: Ohakune > Wellington
Drove down to Wellington from Ohakune
Checked in at hostel
Visited the Te Papa museum and saw the incredible Gallipolli exhibition
Visited Weta Workshop (makers of the props for Lord of the Rings) and had a tour round their studio including a tour of their miniature sets for the Thunderbirds TV show
Day 12 – Long drive back
Location: Wellington > Raglan
Left Wellington to do the 7 hour drive back up to raglan on the west coast
Checked in to hostel
Explored Raglan
Day 13 – Surf's up
Location: Raglan
Hired surf boards and spent the day surfing at Ngarunui Beach
Day 14 – Surf's up part 2
Location: Raglan > Matamata
Spent the day surfing again
Drove back to Matamata for another lovely night's stay at the House With No Nails!
Day 15 – Last day
Location Matamata > Piha > Auckland
Drove up to Piha and had a walk along the beach and up Lion Rock
Visited Kitekite Falls
Drove back to Auckland to catch the plane in the evening
What our other guests had to say
House with no Nails is such a beautiful, creatively stylish home with sweeping views of the gorgeous countryside. Decor throughout is impeccable, with modern country comfort feel. Both Jen and Dewi create a feeling of warmth and friendliness as soon as you arrive; and are ready to help plan your...
Gillian S
Wonderful welcome, felt like old friends in this beautiful and comfortable home. In a tranquil setting just outside Matamata. Easy to find. Lots of helpful advice on where to go and what to see. Stayed 3 nights and could have done with longer
Lizziej4
TRAVEL AGENT REVIEW - I recently visited the house with no nails in November and what a lovely hidden gem this really is! Its just fantastic! The house itself has such a homely feel to it, its cosy, stylish, rustic and extremely clean which is all you can ask for a property. The property is set...
rebecca_alice91
beyond description how friendly the host are. Seven Canadians stayed and had an excellent supper. There is an excellent view. The place is close to the Harakai (SP) trail. There are no nearby neighbours, so it is very quiet.
Terry, TripAdvisor
We booked this place because it looked different. Luckily we were not wrong. The moment we parked our car we entered into this magical, kind of a fairytale world. We were greeted not as tourists but as family guests. Views onto the farmyards and the mountains beyond were majestic. Hosts Jen and...
Maxcarp
Jen and Dewi are wonderful hosts, when you arrive you are made to feel at home as if you have known them a life time! This is a very rare skill at any bed & breakfast! The home is hand crafted timber frame home built by hand, its quirky in the nicest possible way! If you are looking for a...
danygraigBB
We stayed at the House with No Nails for two nights whilst we were visiting the Matamata region. Our host Jen was very warm and welcoming and the house itself is beautiful. My kids loved the loft area and their own little living space. Beautiful views of the mountains and surrounding farmland. A...
Kylie N
When we arrived Jen and Dewi heard that we were discharged from the hospital that day. They offered us their own bedroom in addition to the rooms we had booked. Jen and Dewi took very good care of us.They treated us as we were part of their family. Their care, their hospitality and information...
mariska w
We, 2 families (with 3 kids 9y, 11y and 14y), from Israel and Bora Bora stayed 2 the house with no nails. The house (built by Dewi the owner) is made of wood with a astonishing sky line that views breath taking mountains. The house is clean, very comfortable beds , plenty of room and exositc...
Shir Shalev
We had the best stay in Jen and Dewi's beautiful home. Such a beautiful story they had to tell about their home and their lives. The rooms are beautiful and are perfect!! And what a hospitality!! Thank You!
Max v
Read More Reviews