Booking.com Traveller Review Awards 2020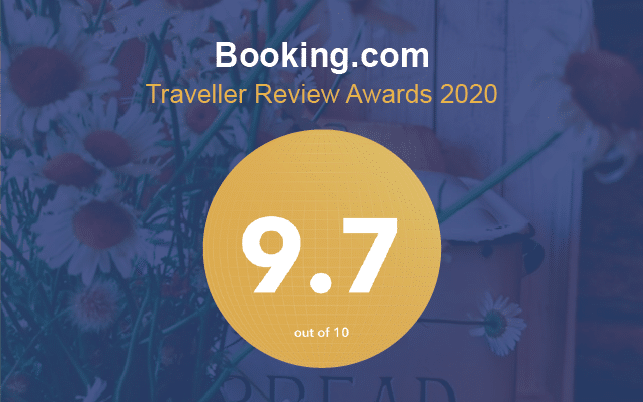 From riads to rental cars, the 2020 Traveller Review Awards saw 986,449 Booking.com accommodation and transport partners recognised for their incredible hospitality.
housewithnonails is honored and humbled to receive an award, all thanks to your glowing reviews!
Let me share a few. I love this one from Colarado. "beautiful home and hospitality. May the force be with you". Haha actually we get a lot of people from the film industry through. "felt at home the moment we walked in. Thanks Jen". Australia. That is said over and over. That idea of a home away from home. "what magical surroundings". It really is. I love living here and I'm the host!!! It's the mountains fields sky birds peace. "we felt spoilt rotton". Wow that's such a complement. "a little bit of paradise", from a lady who equally so has her patch in Aotearoa paradise called Bending Tree donkey farm, in one of those hard kiwi nameplaces, Maungateroto!!!! "farm to table dinner". Yes we really do serve natural yogurt from off a local farm and its deliciously good for you!!! "you're travelling tips will be explored to the full". I am always leaning over a map. Sharing great day itinaries and fabulously "off the beaten track" travel ideas. Dewi and I love travelling New Zealand ourselves, so this isn't just local knowledge from a book, we describe the wild mountain goats on the roads around Te Anga Waitomo and the beautiful raw kawhia harbour!!!! "this is our new favourite home"!!!!. Glad people enjoy our uniquely handcrafted home here in Central North Island. "maybe we can come back again" "what a wonderful welcome to New Zealand". "amazing memories", "our stay was rejuvenating" Salt lake city Utah. "wish we were staying all week". And this one is the pinnacle in my memories of 2019. "A candlelit meal, song and laughter with our fellow travellers"
#morethananumber
#booking.com
Learn more about the Traveller Review Awards here.
What our other guests had to say
House with no Nails is such a beautiful, creatively stylish home with sweeping views of the gorgeous countryside. Decor throughout is impeccable, with modern country comfort feel. Both Jen and Dewi create a feeling of warmth and friendliness as soon as you arrive; and are ready to help plan your...
Gillian S
We had the best stay in Jen and Dewi's beautiful home. Such a beautiful story they had to tell about their home and their lives. The rooms are beautiful and are perfect!! And what a hospitality!! Thank You!
Max v
Wonderful welcome, felt like old friends in this beautiful and comfortable home. In a tranquil setting just outside Matamata. Easy to find. Lots of helpful advice on where to go and what to see. Stayed 3 nights and could have done with longer
Lizziej4
We stayed at the House with No Nails for two nights whilst we were visiting the Matamata region. Our host Jen was very warm and welcoming and the house itself is beautiful. My kids loved the loft area and their own little living space. Beautiful views of the mountains and surrounding farmland. A...
Kylie N
We booked this place because it looked different. Luckily we were not wrong. The moment we parked our car we entered into this magical, kind of a fairytale world. We were greeted not as tourists but as family guests. Views onto the farmyards and the mountains beyond were majestic. Hosts Jen and...
Maxcarp
We, 2 families (with 3 kids 9y, 11y and 14y), from Israel and Bora Bora stayed 2 the house with no nails. The house (built by Dewi the owner) is made of wood with a astonishing sky line that views breath taking mountains. The house is clean, very comfortable beds , plenty of room and exositc...
Shir Shalev
Jen and Dewi are wonderful hosts, when you arrive you are made to feel at home as if you have known them a life time! This is a very rare skill at any bed & breakfast! The home is hand crafted timber frame home built by hand, its quirky in the nicest possible way! If you are looking for a...
danygraigBB
Beautiful accommodation we were made to feel so welcome and I felt an instant connection with the host Jin, both herself and her husband Dowie couldn't have been more helpful, beautiful home and rooms bed & linen of super quality had the best nights sleep waking up to beautiful scenery,...
Lisa W
When we arrived Jen and Dewi heard that we were discharged from the hospital that day. They offered us their own bedroom in addition to the rooms we had booked. Jen and Dewi took very good care of us.They treated us as we were part of their family. Their care, their hospitality and information...
mariska w
beyond description how friendly the host are. Seven Canadians stayed and had an excellent supper. There is an excellent view. The place is close to the Harakai (SP) trail. There are no nearby neighbours, so it is very quiet.
Terry, TripAdvisor
Read More Reviews