Bringing Majesty & Tradition To The Hauraki Rail Trail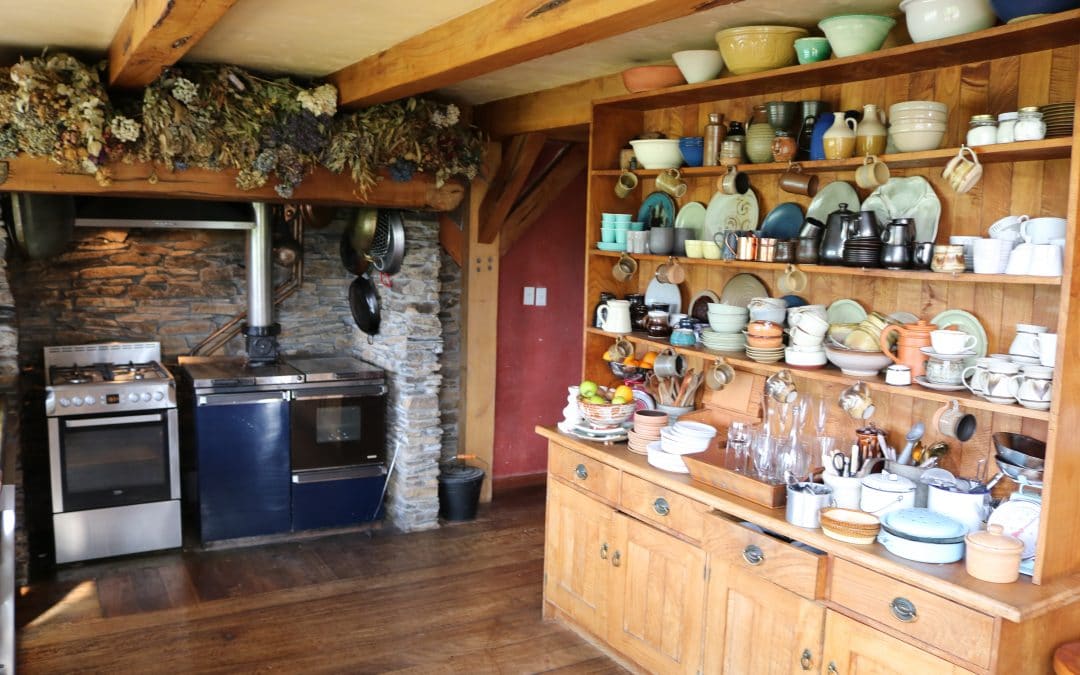 We are stoked to have been featured on haurakirailtrail.co.nz!
Dewi is Welsh, and a craftsman. Jen a local Kiwi, and host of the housewithnonails Boutique Bed & Breakfast. This unique, handcrafted, rustic, eco friendly homestead graces the horizon along the new Te Arohoa to Matamata section of the Hauraki Rail Trail.
Armed with a knowledge of rare ancient building methods, mallet and chisel, Dewi built his barn using local trees felled by cyclone Bola. The trees later milled into beams by a local farmer, and crafted using traditional joinery with hand hewn pegs whittled out of oak on site.
The special day came bringing family and friends together to assist with the construction of the hand built home. A traditional barn raising day taking place on the field beneath the Kaimai ranges, seeing the barn framework erected in one piece.
The local community celebrated that night with a feast and dancing beneath the stars on the open pad. The finished home tells a story of resourcefulness, where a local couple embarked upon their dream to live in the countryside.
The house is now host to an international audience of visitors from all over the world, providing a truly luxury experience. Sitting quietly in its beautiful location on the rural lane of Waghorn Road, Wardville, the totally handcrafted barn is unlike any other homestay in New Zealand.
The home's special exterior is matched equally by the complementary natural interior, with materials and re-purposing of local objects with a history evident. The house features wooden plank and parquet flooring, a large glass solarium, and various hand forged ironworks.
Using a traditional lime render and red clay from Waihi has created beautiful texture for the walls. Stone gathered from the hills in Paeroa now houses an Inglenook fireplace together with a solid fuel cooker, reminiscent of Dewi's country of origin, Wales.
A large native Totara mantel sits alongside an old copper sink set in cement slab benches. A chestnut dresser, clawfoot bath, leather suites and candlelight emanating country chic for guests relaxing in the mezzanine nook, or loft with kingsize bed and expansive views.
On arrival guests are welcomed by an inviting porch. The bold oak door and antique Welsh knocker hinting at the experience awaiting. A unique home full of character and personality, and a pure reflection of hosts Jen and Dewi, and their burgeoning efforts to share their space with strangers who depart as friends.
See the full article here: https://haurakirailtrail.co.nz/blog/the-housewithnonails-bringing-majesty-tradition-to-the-hauraki-rail-trail#.XYBuHX52OAI.email
What our other guests had to say
Wonderful welcome, felt like old friends in this beautiful and comfortable home. In a tranquil setting just outside Matamata. Easy to find. Lots of helpful advice on where to go and what to see. Stayed 3 nights and could have done with longer
Lizziej4
Jen and Dewi are wonderful hosts, when you arrive you are made to feel at home as if you have known them a life time! This is a very rare skill at any bed & breakfast! The home is hand crafted timber frame home built by hand, its quirky in the nicest possible way! If you are looking for a...
danygraigBB
We stayed at the House with No Nails for two nights whilst we were visiting the Matamata region. Our host Jen was very warm and welcoming and the house itself is beautiful. My kids loved the loft area and their own little living space. Beautiful views of the mountains and surrounding farmland. A...
Kylie N
TRAVEL AGENT REVIEW - I recently visited the house with no nails in November and what a lovely hidden gem this really is! Its just fantastic! The house itself has such a homely feel to it, its cosy, stylish, rustic and extremely clean which is all you can ask for a property. The property is set...
rebecca_alice91
You know that feeling, that instant feeling of coming home and everything just feels right? That's what we felt just give minutes after being welcomed by Jen and Dowie. Originally we had just booked one night but as Jen walked us through their amazing (!!) house we just looked at each...
Ewaochjohannes
We booked this place because it looked different. Luckily we were not wrong. The moment we parked our car we entered into this magical, kind of a fairytale world. We were greeted not as tourists but as family guests. Views onto the farmyards and the mountains beyond were majestic. Hosts Jen and...
Maxcarp
We had the best stay in Jen and Dewi's beautiful home. Such a beautiful story they had to tell about their home and their lives. The rooms are beautiful and are perfect!! And what a hospitality!! Thank You!
Max v
beyond description how friendly the host are. Seven Canadians stayed and had an excellent supper. There is an excellent view. The place is close to the Harakai (SP) trail. There are no nearby neighbours, so it is very quiet.
Terry, TripAdvisor
When we arrived Jen and Dewi heard that we were discharged from the hospital that day. They offered us their own bedroom in addition to the rooms we had booked. Jen and Dewi took very good care of us.They treated us as we were part of their family. Their care, their hospitality and information...
mariska w
Beautiful accommodation we were made to feel so welcome and I felt an instant connection with the host Jin, both herself and her husband Dowie couldn't have been more helpful, beautiful home and rooms bed & linen of super quality had the best nights sleep waking up to beautiful scenery,...
Lisa W
Read More Reviews