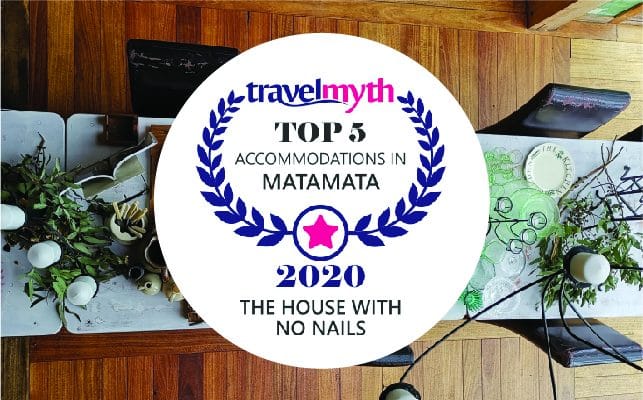 housewithnonails is ecstatic to have been ranked in the top 5 accommodations in Matamata on Travelmyth!
Check us out on their site here.
What our other guests had to say
Wonderful welcome, felt like old friends in this beautiful and comfortable home. In a tranquil setting just outside Matamata. Easy to find. Lots of helpful advice on where to go and what to see. Stayed 3 nights and could have done with longer
Lizziej4
Jen and Dewi are wonderful hosts, when you arrive you are made to feel at home as if you have known them a life time! This is a very rare skill at any bed & breakfast! The home is hand crafted timber frame home built by hand, its quirky in the nicest possible way! If you are looking for a...
danygraigBB
TRAVEL AGENT REVIEW - I recently visited the house with no nails in November and what a lovely hidden gem this really is! Its just fantastic! The house itself has such a homely feel to it, its cosy, stylish, rustic and extremely clean which is all you can ask for a property. The property is set...
rebecca_alice91
We stayed at the House with No Nails for two nights whilst we were visiting the Matamata region. Our host Jen was very warm and welcoming and the house itself is beautiful. My kids loved the loft area and their own little living space. Beautiful views of the mountains and surrounding farmland. A...
Kylie N
We, 2 families (with 3 kids 9y, 11y and 14y), from Israel and Bora Bora stayed 2 the house with no nails. The house (built by Dewi the owner) is made of wood with a astonishing sky line that views breath taking mountains. The house is clean, very comfortable beds , plenty of room and exositc...
Shir Shalev
You know that feeling, that instant feeling of coming home and everything just feels right? That's what we felt just give minutes after being welcomed by Jen and Dowie. Originally we had just booked one night but as Jen walked us through their amazing (!!) house we just looked at each...
Ewaochjohannes
Beautiful accommodation we were made to feel so welcome and I felt an instant connection with the host Jin, both herself and her husband Dowie couldn't have been more helpful, beautiful home and rooms bed & linen of super quality had the best nights sleep waking up to beautiful scenery,...
Lisa W
We booked this place because it looked different. Luckily we were not wrong. The moment we parked our car we entered into this magical, kind of a fairytale world. We were greeted not as tourists but as family guests. Views onto the farmyards and the mountains beyond were majestic. Hosts Jen and...
Maxcarp
We had the best stay in Jen and Dewi's beautiful home. Such a beautiful story they had to tell about their home and their lives. The rooms are beautiful and are perfect!! And what a hospitality!! Thank You!
Max v
beyond description how friendly the host are. Seven Canadians stayed and had an excellent supper. There is an excellent view. The place is close to the Harakai (SP) trail. There are no nearby neighbours, so it is very quiet.
Terry, TripAdvisor
Read More Reviews